Kliewe - Industrial Plant Engineering
Kliewe GmbH is a leading commercial enterprise in the field of industrial plant engineering, located in Hamburg. With more than 50 years of experience in tank and pipeline construction as well as equipment manufacturing, the company is a competent and reliable partner of the industry. Approximately 200 employees plan, manufacture and install tanks, equipment and pipe systems, applying 50 years of know-how as well as state-of-the-art technology. Kliewe puts an emphasis on the highest quality, safety and service.
Partners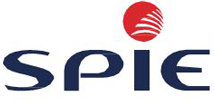 SPIE EPH – We create your future of tomorrow
Quality stems from tradition, safety from innovation. SPIE EPH is a medium-sized company offering a wide range of electrotechnical services, covering sectors such as the automotive and aviation industries, mechanical engineering, energy supply, the chemical and petrochemical industries. For more than 65 years, SPIE EPH has been offering services tailored to customer needs, ranging from automation and building technology to comprehensive services solutions.

Franke+Pahl - Over 50 years of experience
Franke + Pahl is one of the largest technical service providers in Northern Germany. As a medium-sized and owner-managed company with approx. 800 employees in its Hamburg and Bremen locations, Franke + Pahl is above all a partner for customers operating in industry and logistics. These customers benefit from almost 50 years of experience stemming from realized projects in a multitude of sectors: mechanical engineering, aviation and automotive industries, food industry, chemical and pharmaceutical industries and logistics.

TC-Hydraulik - Your strong local partner
Tradition builds better service. For more than 30 years, TC-Hydraulik GmbH has been working in the field of hydraulics. The company is characterized by five areas of service: industrial hydraulics services, mobile hydraulics services, manufacture of power packs, hydraulic cylinders and hydraulic hose pipes. In its four locations in Northern Germany, TC-Hydraulik is dedicated to serve its customers. Experienced specialists in the field of hydraulics and electromechanics develop creative ideas for and with the customer, delivering long-term and powerful solutions. Today, TC-Hydraulik is one of the leading competent hydraulics service providers in Northern Germany, having earned the lasting trust of demanding industry sectors.